Playing sports is a great way for kids to exercise after school and on the weekends, learn how to be part of a team and develop extracurricular interests. While sports can be especially fun, they are just as dangerous. Even during practice, young athletes in any sport are susceptible to injuries.
While many injuries happen by accident, taking precautions and safety measures helps prevent them. Practice and games are equally dangerous; in fact most sports injuries occur during practice as opposed to games. Here are some useful tips to help protect your children from injury and give you peace of mind as they play in practice or the next game:
Get the right equipment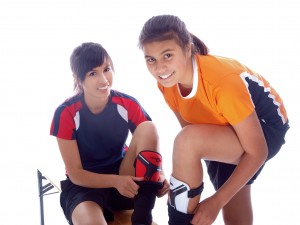 For contact sports like hockey, football or lacrosse, having the right protective gear is an absolute must for your child's safety. Make sure your kids have the proper pads and helmets before they start to play. While helmets and pads are a no-brainer, you can also make sure your child has gear designed for the particular sport. For example, most sports have shoes designed specifically for the surface they are played on, and wearing the proper footwear can help prevent ankle and foot injuries.
For outdoor field sports, like soccer, baseball, rugby and field hockey, players should wear shin guards to protect themselves from hurling balls, kicks from other players and serious leg injuries.
?
Make sure gear fits
This is something that often gets overlooked. Helmets and pads are designed to provide as much protection as possible but can only do so when they're worn properly. When purchasing pads and helmets for your kids, make sure they're fitted by someone who is familiar with that sport. If kids receive their equipment when they sign up for a sport, double check the sizes and fit to be safe.
If your young athlete wears shin guards, make sure they wear the right fit. The wrong size can irritate the skin and make playing very uncomfortable. Shin guards should cover most of the leg area from the ankle to the knee.
Check playing equipment
Check game balls before playing. Leather balls can become waterlogged after being left outside; heavy balls can be dangerous to play with especially with young children. Instead, use balls made out of synthetic materials to prevent waterlogging.
Don't play when injured
Minor injuries in sports are bound to occur, no matter your child's age or experience level. While these injuries may be small, it's critical to give them enough time to heal.  Minor injuries can quickly become more serious if they are not treated properly, and children should not continue playing if they have been injured.
After healing, athletes should continue the same regular exercise to get back on track.
?
Warm up and cool down
Kids can go from sitting to running in the blink of an eye. Being young certainly has its advantages, but jumping right into physical activity isn't the best habit. Athletes should warm up and cool down five to 10 minutes before and after exercise to reduce the risk of injury. Warming up gets the muscles going and increases muscle flexibility. Warming up can be as simple as jogging, jumping jacks or brisk walking. Cooling down brings down an athlete's heart rate, returns breathing to a regular pace and staves off muscle soreness. This will also help them form good habits for when they are older.
Stretch before playing
Often overlooked, stretching benefits young athletes in the long run from stretching before practice and games. Just stretching five to 10 minutes before exercising can help prevent injuries by increasing heart and respiratory rate, boosting nutrients and oxygen delivered to muscles and preparing muscles to workout.
While stretching, athletes should focus on major muscle groups, make smooth movements, hold their stretches and execute sport-specific stretches.
Know the rules
If everyone knows and understand the rules of the game, the chance of someone getting hurt decreases. Teach your kids the right way to play the game to help reduce the possibility of injury.
Be aware of surroundings
In sports like tennis, baseball and hockey where equipment is swung, it's easy for a child to be unaware of their surroundings and injure someone accidentally. Teach your child to always check where other people are before they swing a bat or racquet.
Be prepared for emergency situations. Have a plan in place to reach medical personnel in the event of serious injuries such as fractures, sprains or concussions.
Using these tips can help prevent sports injuries including sprains, strains, heart-related illnesses and more.
This article was contributed by Miami Children's Hospital, a leading children's hospital renowned for excellence in pediatric medical care for patients from birth to adolescence. With leading pediatric orthopedic surgeons, Miami Children's hospital offers expertise in orthopedic sports medicine  and treatment of all sports injuries.