July is National Blueberry Month, marking the time of year when blueberry sales are at their peak.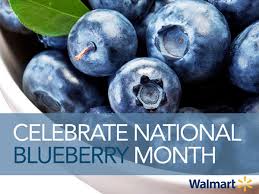 During the summer, most Americans will enjoy a delicious blueberry pie, muffin or even a smoothie, and they've learned since childhood that blueberries pack a strong nutritional punch. Yet some Americans may not recognize the many health benefits of Mother Nature's super-fruit, which make blueberries so good for us. The benefits stem mainly from the fruit's key ingredient – pterostilbene.
Pterostilbene – what is it?
Pterostilbene is a powerful natural antioxidant that, as shown in published research, holds great promise for the support of heart health, cognitive function, anti-aging and the management of weight, blood sugar and other metabolic disorders. These benefits were outlined in the results of a clinical study conducted by the University of Mississippi.
Pterostilbene is similar to another, more well-known, antioxidant called resveratrol, which is naturally found in grapes and wine. But, pterostilbene has several significant advantages over resveratrol, including superior bioavailability, seven times longer half-life in the body and greater oral absorption.
Though pterostilbene is good for you, the catch is that you would have to eat more than 500 cartons of blueberries to get the full benefits of pterostilbene. Fortunately, eating a near-impossible amount of blueberries (which could definitely lead to a stomach ache) is not the only way to reap the benefits of the ingredient. Pterostilbene is also available in a number of supplements that offer the advantages of hundreds of cartons of blueberries in a single capsule.
Pterostilbene – more potent than resveratrol?
The bioavailability of pterostilbene is 80 percent, compared to 20 percent for resveratrol – in other words, 60 percent more pterostilbene is available to the body. Pterostilbene also has a half-life that is seven times longer than that of resveratrol, meaning that it persists longer in the body: 105 minutes for pterostilbene versus 14 minutes for resveratrol. In addition, the level of cellular uptake for pterostilbene is two to four times greater than that of resveratrol and it has greater oral absorption and metabolic stability.
The upshot is this: yes, natural compounds called stilbenoids exist that might help mitigate the potential damage of gorging on eggnog, brie and cookies over the holiday season, and yes, these substances are available in berries, grapes and wine. But if you really want to consume enough stilbenoids to reap clinically relevant health benefits, you have to bring nature to the vitamin shelf in the form of a daily stilbenoid supplement, preferably in a highly bio-available form such as pterostilbene.
What are Stilbenoids?
Stilbenoids, the chemical compounds responsible for the beneficial health effects of small berries, belong to a class of compounds called phytoalexins, which are naturally produced by plants when under attack by pathogens such as bacteria or fungi – in other words, they are a part of a plant's defensive arsenal. Stilbenoids are potent anti-oxidants, meaning that they help fight free radicals caused by oxidative stress and support healthy cellular aging. Stilbenoids have also shown promise for the support of heart health, cognitive function, sports nutrition and the management of weight, blood sugar and other metabolic disorders. For example, a human clinical trial led by Dr. Daniel M. Riche at the University of Mississippi School of Pharmacy found that pterostilbene, the stilbenoid found in blueberries, reduces systolic and diastolic blood pressure in adults. While many animal studies have found pterostilbene to have beneficial health effects, this was the first study to be conducted in humans. 
Video Blog Explains it all:
In his video blog, natural ingredients industry leader Frank Jaksch discusses the benefits of pterostilbene, both in blueberries and as an independent ingredient, and explains why he has been taking pterostilbene orally on a daily basis for more than three years.
That said, blueberries are obviously a great addition to any meal, especially for those looking to take advantage of the many health benefits of pterostilbene this season.
For more information, visit www.pteropure.com
Frank L. Jaksch Jr. is the founder and chief executive of ChromaDex®, an innovative natural products company that provides proprietary, science-based solutions and ingredients to the dietary supplement, food and beverage, animal health, cosmetic and pharmaceutical industries. ChromaDex is the manufacturer of pTeroPure®, a 99 percent pure, patented, nature-identical form of pterostilbene.