Dr. Janet Brill's New York Times bestselling book, 'Cholesterol Down' has finally been turned into a convenient and intuitive app. Aside from containing her easy-to-follow, brilliant diet suggestions and simple walking routine, the app has a host of features and tools including the LDL Tracker, a Daily 10-step Checklist, regular reports and fun recipes, it helps you select your daily plan,  notifies you when you're missing on a schedule, keeps track of your daily cholesterol lowering activities and acts as a readysource of healthy information.
Janet Bond Brill, PhD, RDN, FAND, LDN is Nutrition & Fitness Expert and the leading expert on the Mediterranean lifestyle. She is the author of three best-selling books Cholesterol Down, Prevent a Second Heart Attack and Blood Pressure Down. The expertise and experience she brings to her books have been carried across to the new Cholesterol Down on the Go App.
Why You Need to Lower your Cholesterol?
Physically inactive lifestyles and rushed unhealthy diets continue to take a toll on our well-being. It is estimated that at least 55% of America's population is on cholesterol medication. Also, a significant 29 million American adults aged 20 or older have cholesterol levels above 240 mg/dL. This puts them at increased risk of coronary artery disease, high blood pressure and other associated complications.
Why Dr. Janet's Cholesterol App is in a Class of its Own
Many books have been written on the ways in which we can counter the high levels of fat in our bodies. However, Dr Janet's Cholesterol Down book outlines a proven 10-Step Plan to lower bad LDL cholesterol in 4 Weeks—naturally without prescription drugs. No costly procedures, no expensive therapy is required. All you need to do is follow a clearly outlined 10 step plan daily. This app helps you do that and achieve your LDL goal. You can select your preferred daily 10 Step plan and pick your favorite foods from the choices given.
What makes Dr. Janet's app unique is that it has very simple dietary recommendations. You need not go out of the way to buy exotic supplements. You need not spend more than what you need to buy ordinary grocery items from the local grocer.
A combination of Heart Healthy Foods & Exercise
Carb requirements are met by oatmeal, already a very popular breakfast for many health conscious Americans. However, appropriate substitutes such as barley, where available, are also recommended. These are also a great source of fiber – a very vital ingredient of good digestion. Protein needs can be met by beans or eggplant. Heart healthy foods such as chia seeds and almonds that contain high amounts of HDL – known to fight the build-up of bad cholesterol – are also part of the recommended daily diet.
The App has a beautiful and easy UX/UI Design and the following features to help you achieve your goal of lowering your LDL cholesterol:
Personalized LDL Goal
• LDL Cholesterol Tracker
• Planned diet, exercise and power foods
• Daily 10-step Checklist – includes the cholesterol diet plan
• Delicious recipes
• Useful information and tips on the best foods – with practical tips and safety precautions
• Daily, Weekly and Monthly Progress Summaries
Timely, gentle alerts for missed steps
• Walking tracker
Dr. Janet espouses the collected wisdom of a seasoned and trained dietician to sort our foods. She reasons that a combination of fat lowering foods with mild but sustained exercise attacks the cholesterol problem at its roots. These items are carefully selected to avoid the high content of fat, sugar and salt that we have become accustomed to.
For each food item, suitable recipes are included, to add variety and flavour. This ensures that you do not get bored and stay excited and focussed.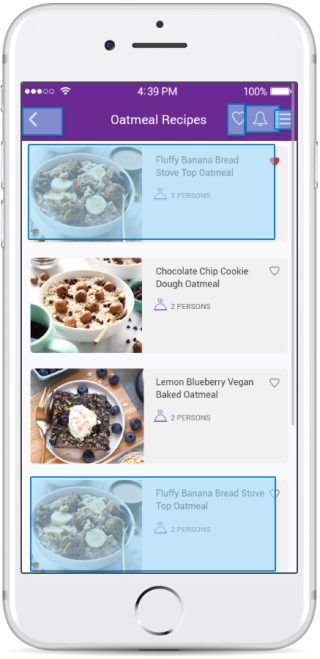 You can also read the benefits of each food item, should you be so inclined. Discover why Dr. Janet makes this particular recommendation, deeply rooted in proven research.
Powerfully Simple Application
As you can see, the interface is easy on the eye. Colours used are mild and sober so that the page loads as fast as possible on all smartphones and you can get to the content that matters quicker.
You can choose whether you want to walk in the mornings or the evenings. You can put a check against the items in the plan that you are already done with.
You can also generate and check activity reports. This will tell you how diligently you have been following activity and diet schedules and where there is room for improvement. These trackers are also useful for doctors who are treating you, and, when they want to know what foods work for you.
You can have your LDL level tested from time to time to check and further boost your motivation. An automatic graphical report can then be generated to trace your progress in reaching your health goals.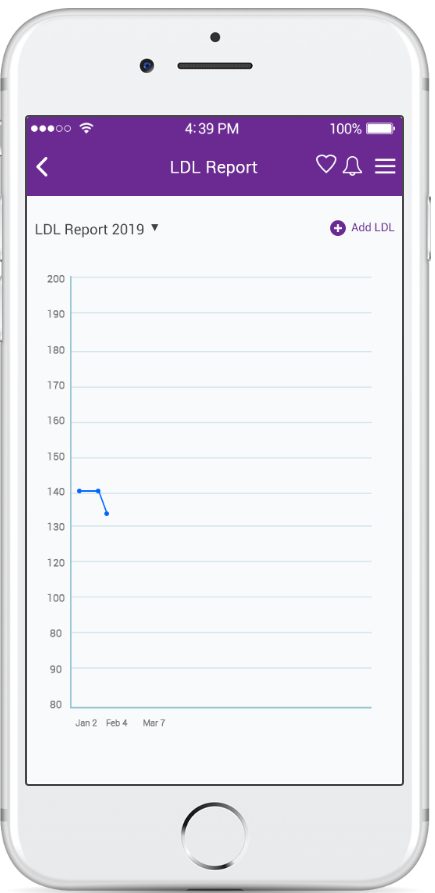 What good would a mobile app be if it didn't give you notifications and reminders about your having missed out an activity? Cholesterol Down on the Go does precisely that. It also gently encourages you to step it up when you're found slacking.
Evidence suggests that bad cholesterol affects a large number of Americans and that number is increasing daily. Ingredients in nuts and berries, such as Omega-3s, and HDL actually help remove bad cholesterol from your bloodstream and help unblock the arteries. This allows free flow of blood and de-constriction of blood vessels, leading to normal heart beats and pressures. Also present in Dr. Janet's diet are antioxidants and fibers – both well renowned for their positive effects on digestion. They also help flush out toxins that age and scar your tissues. This means you can look younger, feel more energetic and gain muscle mass in place of fat tissue. Dr. Janet's scientifically endorsed food list is backed up plenty of research.
Similarly, the benefits of walking as a form of mild exercise are well documented. By employing an automatic tracker, this app crosses the distance between being reactive and proactive. The app notifies you with an alert if you've missed a step, instead of you going to check your daily log.
Dr. Janet's Cholesterol Down program has helped many people with high LDL levels lower their fat naturally by up to 47%. It is a nifty little utility and a must-have for those who want to take control of their own health. For those suffering from heart disease and associated risks of statin prescription, Cholesterol Down on the Go is a veritable gift and an opportunity for a new lease of life. Download the app from Android's Google Play Store or Apple's iOS App Store today!